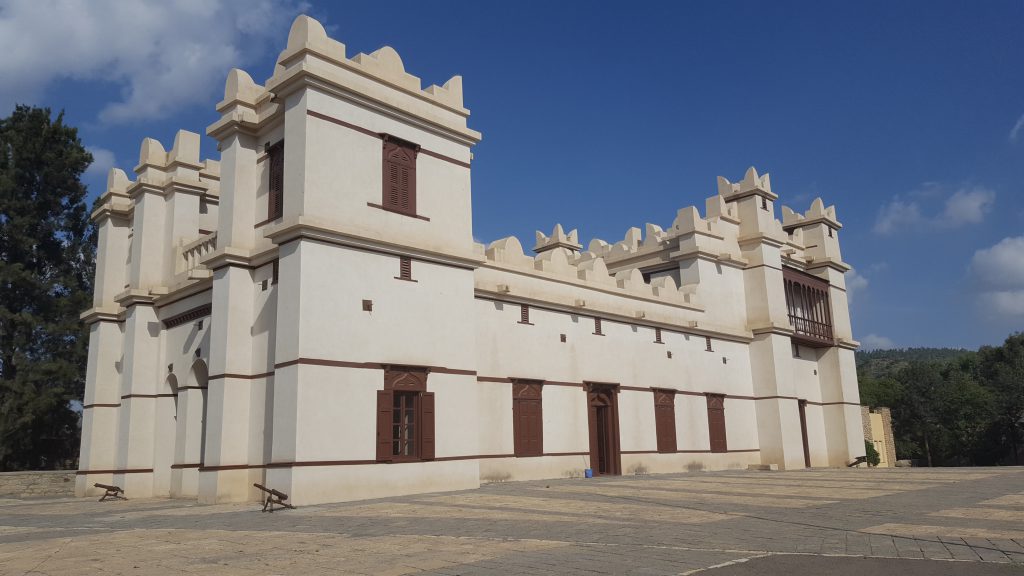 Mekele is the seat of a historical palace called Atse Yohannes IV Palace named after the famous King who ruled Ethiopia from 1872-1889. Emperor Yohannes chose Mekelle as the seat of his government and built his graceful palace, still intact, in 1870s. The palace now serves as a museum. The Emperor's throne, royal bed, ceremonial dress, rifles and many other valuable historical collections can be seen in the museum and the fantastic throne of Atse Yohannnes IV made by the Italian engineer Giacomo Nareri in 1874 is the eye catching centerpiece of the museum.
Places to Visit
Dejat Abraha Castle
Mekelle has also a quite imposing and impressive castle called Dejatch Abraha's Castle built around 1906. Located at the heart of the city that has very similar architectural design with Emperor Yohannes palace, in 1890s. At present the castle is a hotel, commanding a magnificent view of Mekelle.
Edaga Seni – Open Air Market
The famous old Monday market, Idaga Seni, is surrounded by unique arched buildings. It is here in the open-air market where the British Royal Air Force carried out air raids in support of Emperor Haile Selassie's bid to crash the peasant uprising known as the First Woyane in the late 1940s.
Mekelle is also a primary transfer point for the salt bar trade. The salt bar locally called Amole had been the standard currency of the region until the late 19th century. Salt is mined from the Denakil (Dallol) Depression and transported by camel, mule and donkey caravans.The caravans carrying bars of salt arrive at Mekelle in big numbers, especially in Saturday Market.
Hawelti – Monument of the Martyrs
Another interesting hallmark of Mekelle is Hawelti. It is erected to dignify the valiant fighters who sacrificed themselves to emancipate their people from the dictatorial military regime (1974-1991).
The sculpture complex is supposed to consist of museum, library, conference hall, restaurant and many other sections. Having a commanding view over the vicinity.
A perfect place to stay at Mekele include; Axum Hotel, Hil Top Hotel, Milano Hotel, Abrha Castle Hotel, Atse Yohannes Hotel, Alula Aba Nega Hotel and Seti Hotel.