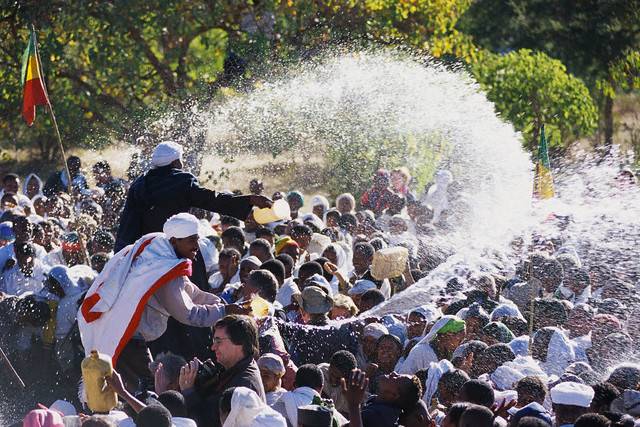 Timkat is the greatest festival of the year, falling on 19 January, just two weeks after the Ethiopian Christmas. It is commemorates Christ's baptism in the Jordan River by John the Baptist. The next day is devoted to the feast of St. Michael the Archangel. From the end of the rains in October, the country becomes increasingly dry and the sun blazes down from a clear blue sky, so the festival of Timkat always takes place in glorious weather.
Enormous effort is put into the occasion. Tej and tella (Ethiopian local drinks) are brewed, special bread is baked, gifts are prepared for the children and new clothes purchased or old clothes mended and laundered. Everyone, men and women and children appear resplendent for the three-day celebration.
Dressed in dazzling white traditional dress, the locals provide a dramatic contrast to the jewel colours of the ceremonial velvet of the priests' robes and sequined velvet umbrellas. On the eve of 18th January, the priests remove the Tabot from each church and bless the pools or rivers where, in the next few days, the celebration will take place.